Dr. Richard Keith Compton, DMD, Summerville Dentist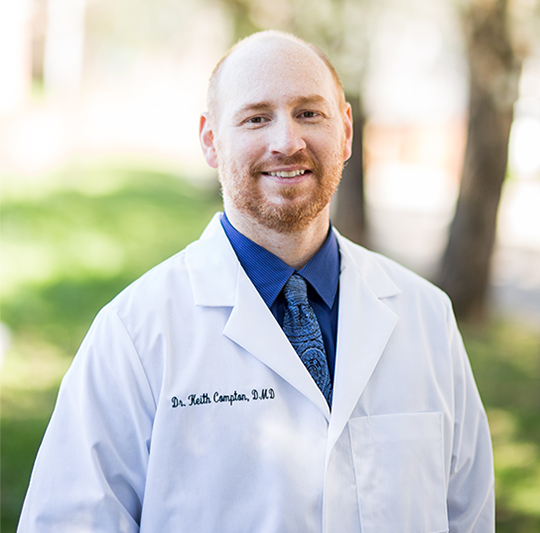 Background and Credentials
Dr. Keith Compton joined the practice after his graduation from the University of Alabama at Birmingham School of Dentistry in 2003. He is a member of the American Dental Association, Georgia Dental Association, Northwest Georgia District Dental Society, and the Academy of General Dentistry. He is currently pursuing a fellowship award from the Academy of General Dentistry, which requires the recipient to complete 500 hours of specialized education and pass a rigorous exam; it is a distinction that only 6% of North American dentists achieve. He is certified in ACLS and has taken extensive continuing education in all fields of dentistry, including most recently in implant dentistry, sedation, orthodontics, medical emergency management, and practice management. The comfort of Dr Keith Compton's patients is his primary goal; to help achieve this, he has received specialized training to become one of the only general dentists in our area who provides IV and oral conscious sedation.
Most recently, Dr. Compton has taken a year long advanced course in dental implants and PRP therapy (which maximizes healing) through the MaxiCourse in Augusta, GA.
Prior to attending dental school, he attended Shorter College, Floyd College, and Trion High School. Dr. Keith Compton has the unique privilege of working with his father (Dr. Richard Compton, DDS), mother (Teresa Compton, RDH), and wife (Dr. Melissa Compton, DMD).
He and his wife, Dr. Melissa Compton, have one daughter, Victoria Compton. In 2018, Dr. Keith Compton attended a weeklong medical missions trip in Honduras with his daughter during which they were able to provide dentistry to hundreds of underserved patients. In his free time, he enjoys traveling with his family, skiing, scuba diving, sky diving, hand gliding, and woodworking. He is committed to providing a relaxing environment in which to serve his patients, and he would love to meet you!